Full 1
TAKE A LOOK AT OUR NEW RANGE!

THE NEW ECD100, ECD 200 & ECD400
Full 2
Full 3
CERAMIC
German Engineered Precision
Full 3
DIFFUSERS
The Finest Ceramic Diffuser for Aquaculture
New Antimicrobial Ceramic
Anti-Microbial Ceramic Membrane protects against Biofilm formation, reducing maintenance and extending product performance/life.
Nano sized porosity of 0.5 microns ensures a stream of ultrafine bubbles (avg. 120 microns at 40cm height) that readily diffuse into water.
Unique patented design with central hole ensures tank floor water is lifted through the centre and is enriched with gasses into the bubble stream.
Silicone rubber feet help prevent accidental damage during handling.
Stainless Steel fittings and a tough resin housing means no corrosion, unlike other diffusers made with aluminium housing and brass fittings that cause galvanic corrosion and limits their lifespan.
Reliable & efficient Micro Bubble Diffusers of durable quality that is easy to install & maintain!
The Enviro Ceramic Diffuser (ECD) Is a high-tech gas diffusion ceramic membrane for efficient gaseous micro bubble transmission into liquids.
Flow Rates of our Diffusers at different pressures. Also an indication of bubble sizes.
The unique patented design allows an airlift principle to move anaerobic water through the centre, thereby increasing efficient gas transfer.
The engineered ceramic membrane is made from ultra-fine nano porous aluminium oxide achieving an average pore size of 0.5 micron (500 nano metres).
The ceramic is encapsulated in a tough polyurethane filled resin with stainless steel fittings and silicone rubber feet.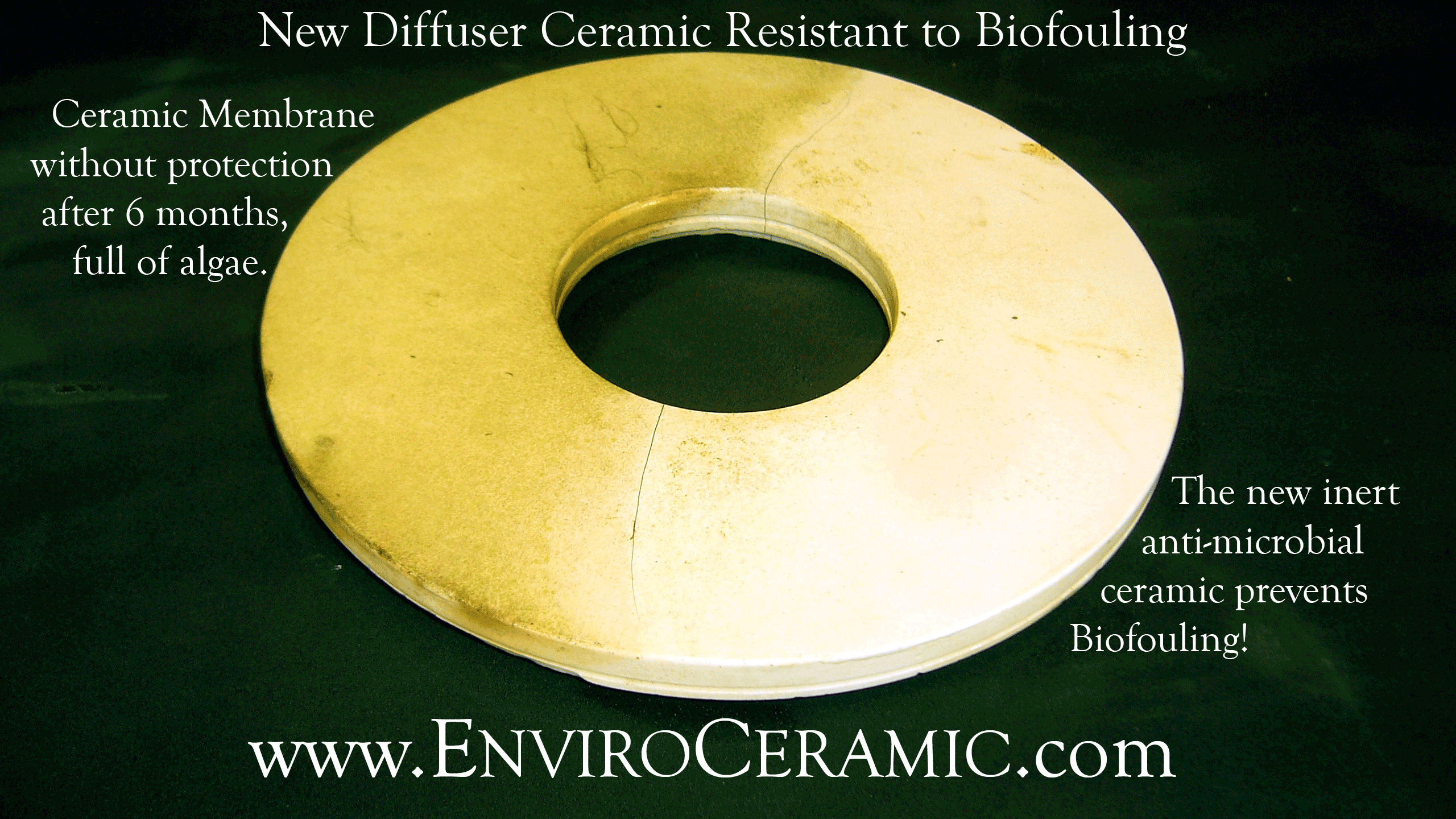 The novel anti-microbial ceramic assists in preventing biofouling of the diffuser membrane inside the ceramic pores and outside on the working surface. This reduces maintenance and extends the product performance/life.
Bubble size from our ceramic diffusers may vary depending on conditions such as liquid/ ceramic surface tension, gas pressure and flow rate, water quality, depth, type of gas used, side currents etc. it is a very complex topic! Please let us know about your applications.At 40 cm height the average bubble size at 1.5 bar pressure is 120 microns on fresh water. Nano bubbles are visible for many days with a green laser.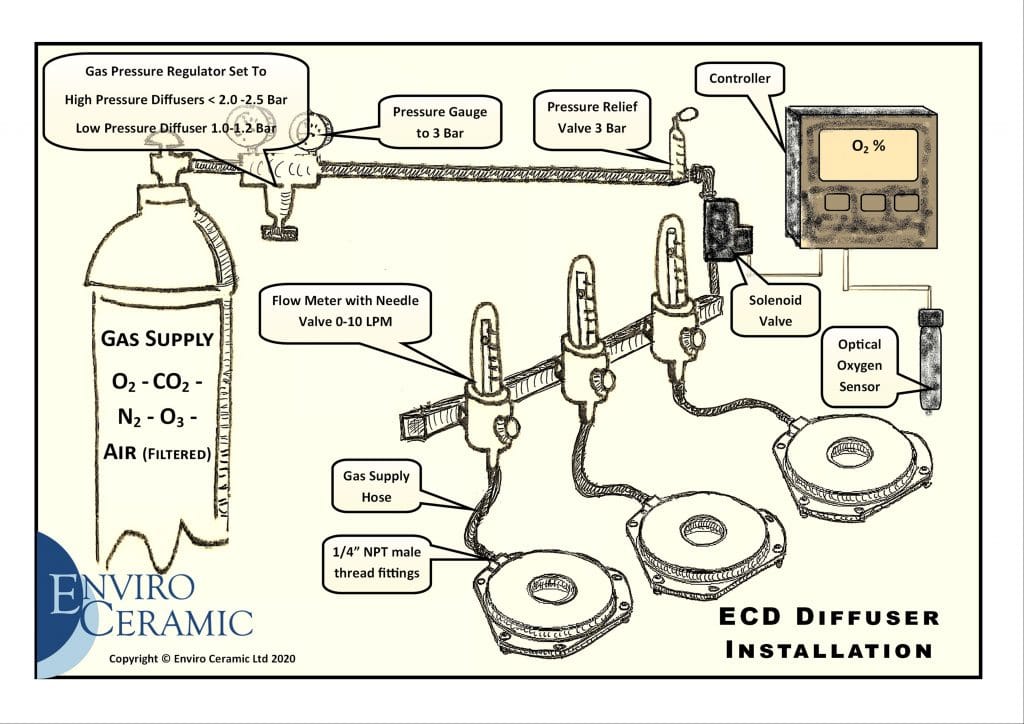 ECD Diffuser Installation & Dimensions
The ECD can be used with gasses such as oxygen, carbon dioxide, nitrogen and air. Our latest development is an ozone resistant diffuser. Please contact us about other gas applications for further assistance. Always read our User Manual for more details before use, available on our downloads page.
Ceramic Micro Bubble Diffuser Applications:
Aquaculture/Fish Farming: supplementing oxygen and emergency backup in RAS, Raceways and Ponds. Ideal for transporting fish. Anesthetizing with CO2 for handling and processing.
Waste Water Treatment: reduction of BOD & COD.
Chemical Processes where gas transfer is required or even matalurgical stiring.
Aquaponics and Hydroponics.
Bioreactors.
Talk to us about your application!
The ceramic micro bubble diffuser technology is known to be more efficient in certain applications than most systems commonly used, like porous hoses, membrane diffusers or paddle wheels.
We currently manufacture our latest smaller ECD100 with a 100 cm2 ceramic surface area, delivering a optimal flow of bubbles at 0,75-1,5 LPM ideal for smaller transporters, hatcheries and tanks below 1m3. Our indestructible Flagship since 2010, the ECD200 with 200cm2, delivers 1,5-3 LPM, ideal for tanks up to 1m3, hatcheries and transporters. The large 400cm2 ECD400HP diffuser (3-6 LPM) is well suited for applications in shallow water Fish Farming, transporters and RAS Aquaculture. 
Our latest development is the ECO3D200 for Ozone applications to sterilise water and for other oxidising effects, delivering the smallest bubbles possible. Lower pressure diffusers (that work under 1 bar pressure) like the ECD200LP for Koi and Hydro/Aquaponics and ponds is made only on special request. Other gas transfer diffuser concepts can also be made by request., please send us a mail and we can discuss this to find the best solution to your project.
The latest and best for your Aqua Needs!
Deliveries and Shipping
We export by courier or air freight in sturdy packaging to customers and agents all over the world. We currently have customers in over 52 countries worldwide. Please enquire for a competitive quote.
ORDER YOUR DIFFUSERS TODAY!