Beautifully crafted with technical excellence
and exceptional attention to detail.
AIR LIFT DESIGN
Patented air lift design produces unique water circulation from the tank floor, providing additional oxygen enrichment unachievable by regular rectangular diffusers.
FLOW RATE
High flow rate of ultrafine micron sized bubbles due to the special ceramic membrane made from the finest materials. The diffuser uses about 25% less pressure than other diffusers yet achieves the same fine bubble size and flow rates due to its increased number of ultrafine pores.
MODULAR FRAMES
We supply a unique modular frame that can be used to connect several diffusers in a row, making handling of diffusers in large tanks easier. These 300mm long frames can be ordered separately and are very practical and versatile to use.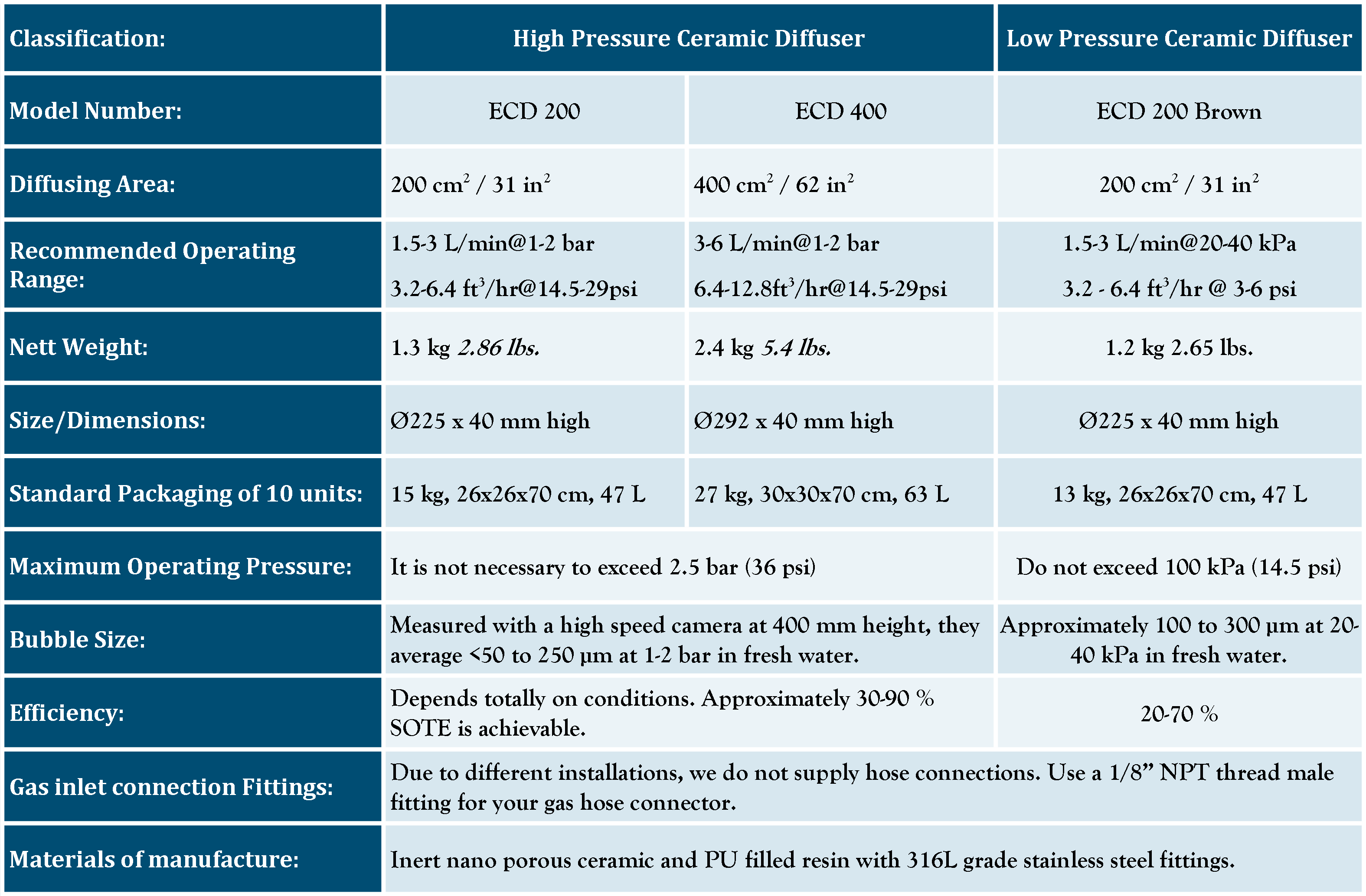 SPECIFICATIONS
Some of the diffuser specifications are listed in the table above. Please enquire should you need any further information.
STABILITY
Improved outer resin housing formula for increased weight and strength to prevent breakage during handling and ensure stability in water. This product is tough even at sub-zero temperatures.
NOVEL ANTIMICROBIAL CERAMIC
Enviro Ceramic developed a unique antimicrobial ceramic used to reduce algae growth on the ceramic membrane working surface. This prevents blockage of pores from algae growth and reduces maintenance that is cumbersome with other diffusers on the market.
RECOMMENDED INSTALLATION
the basic installation of the diffusers is explained in more detail in the user instruction manuals on the downloads page.
QUALITY & TESTING
Each diffuser has a unique traceable batch number for quality purposes in line with ISO 9002 requirements.
Each diffuser is pressure tested for safety to above usage pressures of 400kPa.
Diffusers are made from top quality German ceramic raw materials and the toughest resin from the USA.
The latest and best for your Aqua Needs!
DELIVERIES & SHIPPING
Secure packaging suitable for air and sea freight in sturdy cardboard boxes.
Two year warranty on the functionality of diffuser if used within the specified parameters of its intended use.
Usage instructions are clearly displayed on each diffuser.
Delivered worldwide via DHL Express at reasonable prices and quick lead times.
OPTIONAL EXTRAS
Suction cups can be supplied on request for sturdier adherence to tank floor during transport of fish etc.
All diffusers have a 1/8" female NPT thread Stainless Steel fitting. Stainless Steel Hose Barb ¼" (6,35mm) for the gas supply line or Push in connectors (for a 8mm OD hose) can be supplied on request.
SALES & SERVICE
Optimised cost per working surface area compared to other high pressure diffusers on the market with similar small pore size.
Reduced weight per unit surface area saving in transport costs but not compromising weight under water.
About 25% less pressure needed to run at the same oxygen flow rates as other diffusers in relation to surface area.
Order now by PayPal or contact us for a specific quotation.